2g 6G74
From Mitsipedia
This page refers to the 24 valve SOHC 6G74 V6 used in the KJ through KW Verada and TJ through TW Magna. For the earlier 147kW versions see 1g_6G74. For the 180 kW Ralliart version see 6G74_ralliart. For other versions of this engine not used in Magnas see 6G7x family.
With the release of the TJ/KJ series, the 6G74 underwent a transformation in order to increase performance, reduce fuel consumption and reduce emissions. The result was a revised 6G74.
The revised 6G74 was virtually the same as the early 6G74 except that it used different camshafts and engine management systems.
The revised 6G74 also bought about increases in power for Magna Sports and Magna VR-X which had a slight increase over the standard Magna by use of a free-flowing exhaust.
While all of the revised 6G74s were the same basic design, it came out in three power levels. These were:
150kW: This was the initial revised 6G74 used in the TJ/KJ series.
155kW: The first update to the revised 6G74, used a differently calibrated engine management system to produce extra power while reducing city run fuel consumption. This change was made in the TJ MY02/KJ MY02.
163kW: The "sports" power level, used in non AWD sports variants. Extra power achieved by using a free-flowing exhaust system.
Technical Specifications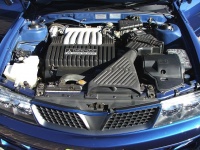 Type
Transversely mounted 6 cylinder in vee configuration with 60 degree bank angle. Single overhead cam with 4 valves per cylinder
Displacement
3497cc (3.5 Litres)
Bore
93.0mm
Stroke
85.8mm
Maximum oversize
1.00mm
Compression Ratio
9.0:1
Firing Order
1,2,3,4,5,6
Power Output
150 kW @ 5000rpm, 300 Nm @ 4000 rpm


155kW @ 5000rpm, 316Nm @ 4000rpm (From August 2001)
163 kW @ 5250rpm, 317Nm @ 4500rpm (Sports models)

HEAD SPECIFICATIONS
Type
Alluminum Alloy with pentroof combustion chambers and centrally mounted spark plugs
Inlet Valve Diameter
34.30mm
Exhaust Valve Diameter
31.8mm
Valve Face Angle
45 º
Valve Clearance
Maintained by hydraulic lash adjusters
CAMSHAFT SPECIFICATIONS
Inlet Opens
13º BTDC
Inlet Closes
55º ABDC
Inlet Duration
248º
Exhaust Opens
51º BBDC
Exhaust Closes
17º ATDC
Exhaust Duration
248º
Overlap
30º
Inlet Cam Lobe Height
37.58mm
Exhaust Cam Lobe Height
36.95mm