Astron II
From Mitsipedia
Astron II



Astron II in a first generation Magna

Overview
Manufacturer
Mitsubishi Motors Australia Limited
Also called
4G54, 4G54B, G54B
Production
1985 - 1996
Layout
Configuration
In-line 4
Displacement
2555cc
Cylinder block alloy
Cast Iron
Cylinder head alloy
Aluminum Alloy
Valvetrain
SOHC
Chronology
Predecessor
Astron
Successor
Sirius
The Astron II was an improved version of the original Astron and debuted in the mid 1980s. It was available only in 2.6 Litre form.
The Astron II's main difference over its predecessor were in the cylinder head with hemispherical style combustion chambers, larger exhaust and inlet valves and hydraulic lash adjusters. The pistons were flat topped with compression rising to 8.8:1 (up from 8.2:1) to produce 83 kW at 5200 rpm and 200 Nm at 2400 rpm (up from 76kW at 4800rpm and 192 Nm at 2400 rpm) in carburetted form.
The 2.6 Litre engine was praised for being powerful, economical and refined.
Original Astron II
The Original Astron II was fitted to the all First Generation Magnas (TM-TP), carburetted Second Generation Magnas (TR-TS), the GN Sigma, Triton ME through MJ and Pajero NE through NH.
When used in the Magna, these engines typically had the numbers M1 through M5 cast into the head and V5xx engine numbers.
Technical Specifications
Type
In line 4 cylinder overhead cam with counter balance shafts
Displacement
2555cc (2.6 litres)
Bore
91.1mm
Stroke
98mm
Maximum oversize
1.00mm
Compression Ratio
8.8:1
Firing Order
1,3,4,2
Power output (Carby)
83 kW @ 5200 rpm, 200Nm @ 2400 rpm
Power Output (EFI)
93 kW @ 4800 rpm, 205 Nm @ 2400 rpm
HEAD SPECIFICATIONS
Type
Alluminum Alloy with hemispherical combustion chambers and crossflow design
Port Diameter
40.00mm
Inlet Valve Diameter
46.00mm
Exhaust Valve Diameter
38.00mm
Valve Face Angle
45 º
Valve Clearance
Maintained by hydraulic lash adjusters
CAMSHAFT SPECIFICATIONS
Inlet Opens
25º BTDC
Inlet Closes
59º ABDC
Inlet Duration
264º
Exhaust Opens
64º BBDC
Exhaust Closes
20º ATDC
Exhaust Duration
264º
Overlap
45º
Inlet Cam Lobe Height
42.50mm
Exhaust Cam Lobe Height
42.56mm
Nominal Cam Lift
10.50mm
Revised Astron II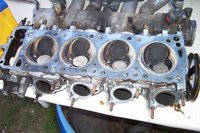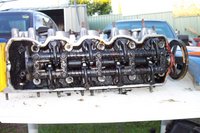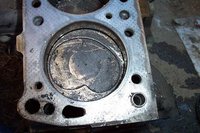 A revised Astron II was fitted to fuel-injected TR and TS models. The revised Astron II used roller rockers, a higher compression ratio (9.2:1 up from 8.8:1), larger inlet ports (42mm up from 40mm in the original), a knock sensor and a self-adjusting balance shaft chain adjusting mechanism as fitted to late model original Astron IIs.
These changes increased power to 98 kW at 4750 rpm (103 kW when running on premium unleaded) and torque rose to 212 Nm at 3750 rpm.
Revised Astrons can be identified by their knock sensor situated under the fuel injection plant (original Astron II's do not even have a hole for it), its engine number (all are prefixed by W531 or W532) or the casting number on the head (M6 through M9). The M6 and M7 were used in the TR Magna.
With the release of the TS Magna, the Astron II was modified once again with a switch to the M8 and M9 head which used swirl-type "kidney shaped" combustion chambers with dished top pistons (to match the combustion chambers). These promoted better mixing of air and fuel, less detonation (knocking) and a better flame front.
The M6 through M7 head is said to be the best Astron II head - using the largest valves, ports and having good flow characteristics. The M9 head while similar has less desirable flow through the intake ports due to the shape of the combustion chamber.
Technical Specifications
Type
In line 4 cylinder overhead cam with counter balance shafts. Transversely mounted
Displacement
2555cc (2.6 litres)
Bore
91.1mm
Stroke
98mm
Maximum oversize
1.00mm
Compression Ratio
9.2:1
Firing Order
1,3,4,2
Power Output (EFI)
98 kW @ 4750 rpm (103kW when running PULP), 212 Nm @ 3750 rpm
HEAD SPECIFICATIONS
Type
Aluminum Alloy with hemispherical combustion chambers and crossflow design
Inlet Port Diameter
42.00 mm
Inlet Valve Diameter
46.00mm
Exhaust Port Diameter
40.00mm
Exhaust Valve Diameter
38.00mm
Valve Face Angle
45 º
Valve Clearance
Maintained by hydraulic lash adjusters
CAMSHAFT SPECIFICATIONS
Inlet Opens
25º BTDC
Inlet Closes
61º ABDC
Inlet Duration
266º
Exhaust Opens
66º BBDC
Exhaust Closes
20º ABDC
Exhaust Duration
266º
Overlap
45º
Inlet Cam Lobe Height
42.50mm
Exhaust Cam Lobe Height
42.56mm
Nominal Cam Lift
10.50mm