Difference between revisions of "4A9x family"
From Mitsipedia
---
Revision as of 22:36, 29 September 2018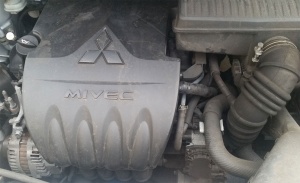 The 4A9x family was designed by Mitsubishi to replace the Orion engine in its small vehicles. Mitsubishi designed it to be lightweight, compact and powerful. All 4A9x engines feature an all-aluminium design with chain driven double overhead camshafts, four valves per cylinder (16 in total) and MIVEC on the intake camshaft. It is the first Mitsubishi engine to use a high pressure die-cast aluminium block.
The engine has been built at the joint Mitsubishi Daimler-Chrysler facility - MDC Power in Germany since 2003 and the Shenyang Aerospace Mitsubishi Motors Engine Manufacturing Co Ltd in China since 2009.
4A90
Specifications
| | |
| --- | --- |
| Displacement | 1332cc (1.3 litres) |
| Bore | 75.0mm |
| Stroke | 75.4mm |
| Compression Ratio | 10.5:1 |
| Output | 73 kW @ 6000 rpm, 125 Nm @ 4000 rpm |
Used in
Smart ForFour (2004-2006)
4A91
Specifications
| | |
| --- | --- |
| Displacement | 1499cc (1.5 litres) |
| Bore | 75.0mm |
| Stroke | 84.8mm |
| Compression Ratio | 10.0:1 |
| Output | 80 kW @ 6000 rpm, 145 Nm @ 4000 rpm |
Used In
Mitsubishi Colt (RG)
Smart ForFour (2004-2006)
4A92
Specifications
| | |
| --- | --- |
| Displacement | 1590cc (1.6 litres) |
| Bore | 75.0mm |
| Stroke | 90.0mm |
| Compression Ratio | 11.0:1 |
| Output | 86 kW @ 6000 rpm, 154 Nm @ 4000 rpm |
Web Links