V3000
From Mitsipedia
The Mitsubishi V3000 is the New Zealand export version of the first and second generation Magna/Verada. Unfortunately, little information on these vehicles exists. Even MMAL themselves have been unable to tell me alot about them. The Magna is a wide-bodied version of the Sigma, with a 2.6L rather than 2.0L engine, therefore they are different cars.
First Generation V3000
The Mitsubishi V3000 was a New Zealand only vehicle introduced in 1988 as a locally built direct development of the Mitsubishi Sigma (1984-1988) which was by then due to be replaced by the new model Mitsubishi Galant. Market research undertaken by Mitsubishi indicated that NZ six cylinder buyers valued smoothness and performance over outright size, this gave them the opportunity to compete in a resurgent six cylinder market with the likes of Commodore,Falcon,Skyline and Cressida. Essentially the V3000 is a Sigma but fitted with a 110Kw 3litre V6 engine and uprated suspension. It also had the bonnet and chrome grille from the top-of the-line Sigma SE. I believe the idea itself came from a Japanese only model of the Sigma/Eterna range called the V2000. The model proved very succesful even though it was based on an out-dated car and was available in basic "Executive", mid-range "Super Saloon", and top-of-the-range "SEi" with luxury trim and digital dashboard. Later a sports version "Elante" was introduced, based on the "Executive". A famous tv ad was produced showing the car come across a broken down Australian tank, then towing it to help. The catchphrase being "More Tow than an Aussie Tank" being a reference to the Falcon/Commodore 6 cylinder competition. The V6 engine combined with relatively low weight and gearing ensured excellent performance, the NZ traffic police selected them as patrol cars to replace the Turbocharged Sigma GSR, these cars had the "Elante" suspension pack, which was an option on other models. Performance was said to be similar overall to the GSR however the V3000 was stronger "off the mark". In 1990 the car was given a final facelift which involved welding the curvier front of the Mitsubishi Eterna onto the Sigma body. A story goes that when Mitsubishi NZ went to ask MMC Japan permission to allow for the modifications, MMC Japan said it couldn't be done. In the mean-time, the Mitsubishi Japan engineers had performed the task themselves, proving their bosses wrong. It was discontinued in 1991.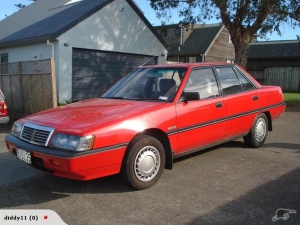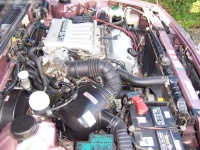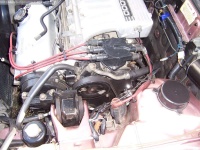 Second Generation V3000
The second generation V3000 was based on the Second Generation Magna. These vehicles were almost identical to the Magna, except that they had the V6 engine installed in them from 1991.
Third Generation V3000
The V3000 model name was replaced in 1997 with the Diamante name.