KM177-6
From Mitsipedia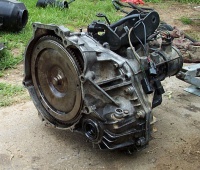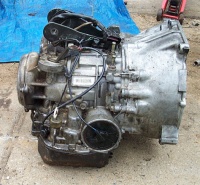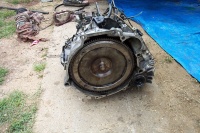 The KM177-6 (also known as F4A23)is a four-speed electronic automatic transaxle built by Mitsubishi and was used in all TP models and carburettored Second Generation models.
After discovering that the KM175 was failing often in service, MMAL decided that both carby and fuel-injected TP Magnas would be fitted with the stronger transaxle.
The KM177-6 was very similar to the KM177 which was introduced in the fuel-injected TN. As with the KM177 and KM175 before it, it uses a damper clutch in the torque converter which causes the converter to lock at low vehicle speeds. The operation of the clutch is controlled by the Transaxle Control Unit.
As with the KM175 and KM177, gear selection is electronic and is controlled by solenoids activated by the Transaxle Control Unit. The TCU uses information from sensors which provide information on vehicle speed, throttle position, engine coolant temperature, gear lever position, engine speed, transfer shaft speed, overdrive switch and kickdown drum speed.
Differences between the KM177 and KM177-6 include a revised final drive ratio and the introduction of power and economy modes (which required a different transaxle control unit).
Power and economy mode was a change made to the transaxle control unit and changed when the transmission kicked down and upchanged. In power mode, upchanges occured at higher rpm, while the throttle was more sensitive for downchanges.
Technical data
Lubricant
Mitsubishi ELC-4 ATF, Castrol TQM-SP, Valvoline Type M-II Special
Capacity
5.8 Litres
Torque Convertor Stall Speed
2100 - 2500 rpm (TP), 1800 - 2800 rpm (TR/S Carby)
GEAR RATIOS
Final Drive
3.900
1st
2.551
2nd
1.488
3rd
1.000
4th
0.685
Reverse
2.176